기사본문
The result of pre-clinical trial of 'PI3K·DNA-PK inhibiting anti-cancer drug' from Boryung Pharmaceutical
입력 2020-06-29 09:10 수정 2020-06-29 09:10
by Jongwon Jang
Released 3 posters at AACR 2020..Confirmed its potential use as a monotherapy & combination therapy in blood cancer and solid cancer
BR101801 (project name BR2002), which Boryung Pharmaceutical is developing as an anti-cancer drug which simultaneously inhibits PI3K (γ/δ) and DNA-PK, showed its potential as a treatment in various solid cancer models as well as in blood cancer.
Boryung Pharmaceutical unveiled some of the pre-clinical trial results of BR101801 at the annual conference of the American Association for Cancer Research (AACR), which was held online on the 22nd (local time).
PI3K (phosphoinositide3-kinase) is an enzyme that regulates intracellular signal transduction process and regulates multiple functions such as cell growth, proliferation and differentiation, migration, and survival. As an enzyme that recognizes and repairs DNA damage in cells, DNA-PK helps cancer cells survive despite of DNA damage.
BR101801, solely developed by Boryung Pharmaceutical, is a target anti-cancer agent and cancer immunotherapy agent that simultaneously inhibits PI3K and DNA-PK. In this AACR, Boryung Pharmaceutical released total of 3 posters of which are related to cancer cell death of BR101801: efficacy in monotherapy and combined therapy, efficacy as an cancer immunotherapy drug, ability to inhibit repair factor of cancer cell damage.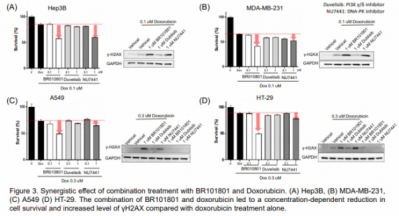 Boryung Pharmaceutical not only uses BR101801 alone but also BR101801+ anti PD-1, BR101801+ anti PD-L1, BR101801+ OX40, BR101801+ Doxorubicin in various animal models such as liver cancer, breast cancer, lung cancer and colon cancer models. As a result of combination therapy, efficacy of BR101801 in terms of survival rate and tumor size was confirmed as compared with the control group.
Boryung Pharmaceutical has also conducted a mono and combined efficacy study of BR101801 on cancer cell deaths from peripheral blood mononuclear cells (human PBMCs). Gilead's Zydelig (Idelalisib), Verastem's Copiktra (Duvelisib) and other drugs that have been approved as PI3K inhibitors to date have been set as a control group for comparative studies. As a result, it was confirmed that BR101801 showed superior efficacy in killing cancer cells and controlling c-Myc (tumor-inducing gene) compared to the controls from 52 hematological cancer cell lines.
Especially when BR101801 alone is administered, Treg (regulatory T cells) and MDSC (bone marrow-derived suppressor cells), which are immunosuppressive cells, are decreased, and CD8+, which is an immune cell that kills cancer cells, is increased. It has confirmed its effects of a cancer immunotherapy agent. Also, it showed the effect of inhibiting DNA-PK, which is an enzyme involved in recognizing DNA damage in cancer cells and involved in repair, and showed the effect of killing cancer cells.
The researcher team said, "BR101801 has been shown to have the effect of killing cancer cells not only in blood cancer but also in various solid cancers when co-administered with cytotoxic anti-cancer drug or through the radiation."
Boryung Pharmaceutical said BR101801 has been currently undergoing 1st clinical phase for the indication of non-Hochkin's lymphoma, a type of blood cancer, simultaneously in Korea and in the U.S. since this March.