기사본문
Arum Therapeutics nabs 8B KRW series A for overcoming tolerance of PAPR inhibitors
입력 2021-04-23 10:09 수정 2021-04-23 10:09
by Sungmin Kim
Overcoming resistance and side effects of PARP, Arum develops Chk2 inhibitor 'ART-100' as a final development candidate for preclinical trial to be used in combination therapy..."targeting IND applica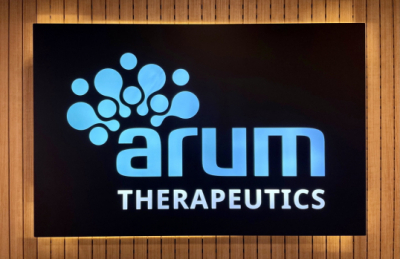 Arum Therapeutics announced on the 19th that it has completed attracting 8 billion won worth of investment through Series A. As a result, Arum Therapeutics has secured about $10 billion won (10 billion KRW) in investments so far. The round was led by Daily Partners, with Partners Investment, SBI Investment, Aju IB Investment, and KDB Capital participating. Daily Partners had invested in pre-A series in April last year.
By attracting investments this time, Arum Therapeutics is speeding up development of leading pipelines. Arum Therapeutics focuses on areas that were not treated with conventional target treatments targeting tumor-induced genes (oncogenes) such as BRAF, EGFR, and HER2.
Taegon Baik, CEO of Arum Therapeutics, said, "This investment will be used to select final development candidates for Chk2 inhibitor 'ART-100', which will overcome the resistance and side effects of PARP inhibitors, and to conduct preclinical and toxicity tests. And we aim to submit an IND application in the second half of next year."
In addition, it will be used to secure preclinical candidate substances for RIOK1 inhibitor 'ART-200,' which targets colon cancer with RAS mutations, and PI4K IIIß inhibitor 'ART-300,' which is developed as an asthma treatment.
Chk2, which is the most leading target from Arum Therapeutics, is a factor involved in DNA damage response (DDR). DDR is a protective mechanism that prevents cancer cell death by repairing DNA damage and then replicating it based on administration such as chemotherapy and radiation therapy. Chk2 is an ATM-mediated cell cycle checkpoint regulator that inhibits cell division in response to DNA double strand break (DSB).
Arum Therapeutics expects that Chk2 inhibitors will be able to overcome hematological side effects of existing PARP inhibitors in clinical trials and overcome the resistance to PARP inhibitors through combined administration. Currently, synergetic effects of combination of ART-100 and the existing PARP inhibitor 'Olaparib' are confirmed across cancer cell lines, and combination effects with existing chemo-cancer drugs are also confirmed in the in-vivo xenograft model.
As Arum's next target, RIOK1 is an important factor in ribosome function, which is necessary for cell growth and proliferation during tumor formation. In fact, it is used as a prognostic marker in cancers such as colon, stomach, liver, kidney, and melanoma. Among them, an increase in RIOK1 expression in colorectal cancer patients is known to shorten the overall survival period (OS) and the disease-free survival rate (DFS) (doi: 10.7554/eLife.29511), and tumor growth and metastasis are suppressed if RIOK1 is suppressed in colorectal cancer in animal models. Currently, the RIOK1 inhibitor project is in its early stages, screening new lead compounds.
Finally, the PI4K IIIß inhibitor, developed as an asthma treatment, was licensed by Korea Research Institute of Chemical Technology (KRICT) last year. PI4K IIIß has been developed as a drug that is important for RNA virus penetration and replication, which inhibits asthma and COPD human rhinovirus. So far, there are no drugs that inhibit rhinovirus. Arum is currently analyzing the efficacy, gene and cytokine expression of ART-300 compounds in the in-vivo infection model.