기사본문
OliX Pharmaceuticals, 'GalNAc-siRNA platform' competitiveness against HBV∙NASH?
입력 2021-11-22 13:54 수정 2021-11-22 13:54
by Yoonseok Suh
In animal models, OLX703A reduced HBV antigen and DNA, and OLX702A improved NASH liver tissue lipid droplet and lipidosis. Competitors tend to license out in the early stages of GalNAc technology
It is not an exaggeration to say that the recent RNAi therapeutics has been developed together with the GalNAc platform. GalNAc technology has been applied to all three RNAi drugs 'Givlaari(givosiran)', 'Oxlumo(lumasiran)', and 'Leqvio(inclisiran)' marketed since Alnylam released the first RNAi treatment 'Onpattro(patisiran)' using LNP in 2018.
Dong-ki Lee, CEO of OliX, said, "OliX is currently judging that our development capabilities have been secured close to the global level, such as Dicerna and Arrowhead" and "We will be able to show results through performance such as license out in the liver disease field in the next 6 months to 1 year".
In March of last year, OliX Pharmaceuticals signed a contract with AMC to exclusively acquire the rights to patents and know-how in GalNAc technology, a liver-targeting ligand. OliX, which secured GalNAc technology, signed a R&D contract with a global biotech based in Europe in June of last year to derive four candidate substances for asiRNA liver disease treatment applying GalNAc. CEO Lee said, "Currently, we have completed the identification of candidate substances and are in the stage of verification by our partners" and "If there is a positive result, a license out may be possible".
GalNAc is a marker that recognizes ASGR(Asialoglycoprotein receptor) on the surface of hepatocytes and induces siRNA endocytosis. OliX is currently developing pipelines for hepatitis B(HBV), NASH, liver fibrosis, obesity/type 2 diabetes by applying GalNAc technology. Among them, HBV is leading the way in the non-clinical study stage. In addition, OliX is developing pipelines for various diseases such as eye disease pipelines 'OLX301A' and 'OLX301D', which have transferred technology to Thea in France, and hypertrophic scars and hair loss.
CEO Lee expressed his aspirations for the future, saying, "OliX will become a bio company with our own strategy to represent biopharmaceuticals so that it can be called OliX when it comes to Korean new drug development companies, just like Naver and Kakao come out when it comes to Korean IT companies". Biospectator investigated the current status of GalNAC-asiRNA development of OliX and its subsidiary, mCureX.
◆ Positive results of GalNAc-siRNA against HBV and NASH.."Looking forward to events in the next 6 months to 1 year"
◎HBV treatment candidate substance 'OLX703A', "HBV antigen∙DNA decreased by more than 100 times"
After securing GalNAc technology, OliX conducted a delivery efficiency test through subcutaneous administration. First, after attaching a fluorescent substance to GalNAc and administering it to mice, it was well delivered to the liver tissue, and it was confirmed that the gene inhibitory effect continued for 50 days after a single administration. OliX is currently developing GalNAc-based pipelines for indications such as NASH, HBV), liver fibrosis, and obesity/type 2 diabetes. Currently, the most advanced is 'OLX703A', a candidate substance for HBV treatment.
First, let's take a look at the study results of the mouse model of the OLX703A being developed by OliX. OLX703A, which targets all HBV transcripts, was administered once to an HBV mouse model(AAV-HBV mouse) and 28 days later, hepatitis B antigens such as HBsAg and HBeAg and HBV DNA levels were analyzed in the blood. As a result, it was confirmed that both HBV antigen and DNA were decreased by more than 100 times compared to the control group. CEO Lee said, "The results exceeded our expectations at a level similar to that of competitors' GalNAc-based HBV treatments".
Although it still has limitations as it is an early study using an animal model, it seems to be a positive result in terms of HBV antigen and DNA inhibitory effects. In addition, it is worth paying attention to the fact that leading groups such as Dicerna and Arrowhead are under license out with Roche and Janssen for hundreds of millions to billions of dollars and jointly developing with Roche and Janssen in the initial development stage.
Currently, leading groups developing HBV treatment using RNAi are Roche/Dicerna, Janssen/Arrowhead, and Vir, all of which are developing drugs based on GalNAc.
HBV is the main cause of liver cancer, and it is estimated that about 300 million people worldwide suffer from it, and more than 800,000 people die every year from HBV-related liver disease. Although currently used antiviral therapies such as nucleoside analogs can inhibit HBV virus, they have limitations in that they can hardly remove HBV antigen, HBsAg and HBV DNA, from the patient's blood, so patients must take the drug for life.
Let's take look at the clinical study results in progress by competitors. First, 'RG6346', which is being developed jointly with Roche by Dicerna, significantly reduced HBsAg in the interim analysis of HBV phase 1 clinical study(NCT03772249). As a result of an analysis of 18 chronic HBV patients who had been treated with existing HBV drugs, Dicerna analyzed the treatment effect after administering RG6346 in doses of 1.5mg/kg, 3mg/kg, and 6mg/kg once a month 4 times.
58%(7/12 patients) of HBV patients treated with RG6346 had their HBsAg levels decreased to less than 100 IU/mL, and the 1.5 mg/kg administration group maintained a lowered HBsAg level(1.4 log10 IU/mL) even 448 days after treatment. Other dose administration groups are currently being followed up.
In addition, Dicerna and Roche did not identify serious adverse events(SAEs) in patients treated with RG6346. No dose-limiting toxicity(DLT) was observed and the most common adverse event was an injection site reaction.
RG6346 was developed with Dicerna's GalXC platform technology and is a drug with a mechanism of inhibiting HBsAg formation by targeting the S region of the HBV genome. Roche acquired RG6346 from Dicerna for $1.67 billion in 2019, and the following year, Roche announced that it would discontinue the development of 'RG6004', a candidate substance for HBV treatment that was being developed in-house.
Next, let's take look at the results of the phase 2 clinical study of 'JNJ-3989', which is being developed by Janssen and Arrowhead. Janssen bought Arrowhead's HBV drug for $250 million in 2018 and is co-developing it.
Janssen and Arrowhead conducted clinical studies on 39 chronic HBV patients in combination with the existing nucleoside analogue treatment. JNJ-3989 was administered three times on days 0, 28, and 56, and HBsAg levels were followed up for about 392 days after administration. As a result, 39%(15/39 patients) of HBV patients administered with JNJ-3989 had more than 90% reduction(-2.0log10IU/mL) in HBsAg for 392 days, and 28%(11/39 patients) of HBV patients maintained more than 90% reduction in HBV RNA levels for 392 days.
The most common adverse events were fatigue, abdominal pain, and injection site reaction, and no drug-related adverse events were observed for 392 days.
Vir confirmed the results of reducing HBsAg levels in phase 2 clinical study of 'VIR-2218', a candidate substance for HBV treatment. Specifically, Vir administered 20mg, 50mg, 100mg, and 200mg doses of VIR-2218 to 32 chronic HBV patients twice on days 1 and 29, and confirmed that HBsAg levels were decreased in a dose-dependent manner until about 48 weeks. The most common adverse event during the clinical study was headache(25%), and there were no cases of clinical study discontinuation due to adverse events.
For a functional cure of HBV, Vir is studying an approach that inhibits the virus and at the same time activates the body's immune system to increase the immune response, and plans to use VIR-2218 as a key drug(Backbone Therapy). Functional cure of HBV means a state in which HBsAg in blood is less than 0.05 IU/mL and HBV DNA is not detected 6 months after the end of treatment.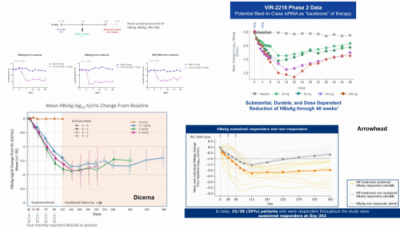 ◎NASH treatment candidate substance 'OLX702A', "Lipid droplet decreased in mouse model"
Next, let's take a look at the GalNAc-based NASH asiRNA treatment candidate substance 'OLX702A', which is being developed by OliX. This substance targets a new NASH-related gene discovered through Genome-Wide Association Study(GWAS) analysis based on the advice of Professor Aaron Hakim of Harvard Medical School, a member of OliX's Scientific Advisory Board(SAB). Specific targets were not disclosed.
As a result of administering OLX702A to a mouse model, OliX confirmed that lipid droplet and lipidosis, known as major symptoms of NASH, were improved. In addition, in the mouse model fed a high-fat diet, it was observed that the mouse weight decreased by more than 10% compared to the control group. The result is that less lipid is accumulated.
In fact, the lipid accumulated in the liver tissue of the mouse model was improved to a normal level as a result of oil red O staining. As a result of tissue analysis, lipidosis of liver tissue was also significantly decreased compared to the control group. In addition, OliX explained that mice administered with OLX702A showed a tendency to decrease(favorable changes) in liver damage markers, blood lipid concentrations such as cholesterol and LDL compared to the control group.
NASH is a chronic inflammatory disease in which inflammation occurs due to the accumulation of lipid in the liver for reasons other than alcohol consumption. As NASH damages liver function, it develops into cirrhosis or liver cancer. So far, there is no treatment for NASH approved by the U.S. Food and Drug Administration(FDA). Recently, drugs that had been considered promising NASH treatments for many years have been reported to have failed clinical studies successively, showing the difficulty in developing NASH treatments.
Intercept Pharmaceuticals was rejected last year by the FDA for marketing 'OCA(obeticholic acid)', which was expected to be a treatment for NASH, on the grounds that it has a high risk compared to its benefits. Hepatic fibrosis improved, but about 15% of patients discontinued the clinical study due to adverse events.
Alnylam/Regeneron and Arrowhead, etc. are conducting phase 1 clinical studies for a NASH treatment candidate substance using RNAi. Both companies are developing treatments targeting the HSD17B13 gene. HSD17B13 is a gene encoding the 17β-Hydroxysteroid Dehydrogenase 13 protein, an enzyme involved in steroid metabolism.
According to the previous study, as a result of analyzing the health records and genome sequences of about 46,544 liver disease patients, patients with HSD17B13 gene mutation had lower levels of ALT and AST, indicating the degree of liver damage. In addition, patients with HSD mutation had a 42-53% reduction in the risk of alcoholic liver disease and a 17-30% reduction in the risk of nonalcoholic liver disease. The risk of alcoholic cirrhosis and nonalcoholic cirrhosis was d by 42-73% and 26-49%, respectively. It is also related to a reduction in NASH risk(doi: 10.1056/NEJMoa1712191).
Alnylam and Regeneron formed a partnership in 2018 and are developing 'ALN-HSD', a candidate substance for NASH RNAi treatment targeting HSD17B13. ALN-HSD is a concept that treats liver tissue by lowering the expression of HSD17B13 to reduce inflammation, wounds, and fibrosis of liver tissue. When ALN-HSD was administered to rats and primates(NHP), Alnylam confirmed a pattern in which the mRNA and protein expression of HSD17B13 decreased by about 80% for about 6 weeks and then gradually recovered. No toxicity or safety issues were noted.
Alnylam started a phase 1 clinical study(NCT04565717) in 128 NASH patients last year and expects to confirm safety data by the end of this year.
Arrowhead is currently conducting a phase 1 clinical study for ARO-HSD. Arrowhead administered ARO-HSD 25mg, 50mg, 100mg, and 200mg to 32 healthy clinical study participants and ARO-HSD 100mg to 5 NASH patients to analyze the safety and efficacy. In NASH patients, on the 71st day after ARO-HSD administration, HSD17B13 mRNA levels decreased by an average of 83.8% and protein levels by more than 83.6%. ALT levels also decreased by about 45.6% from baseline(mean) 76, and MRI-PDFF, an indicator of hepatic lipidosis, decreased by an average of 3.9%. Most of the adverse events observed during ARO-HSD administration were nonserious, and no serious adverse events and drug-related adverse events were observed, and there were no drop-out patients.
CEO Lee said, "NASH is a disease that global pharmaceutical companies are paying attention to because there is no approved treatment yet, and there is a possibility of technology transfer even at an early stage" and "We anticipate that there will be events on HBV and NASH in the next 6 months to 1 year".
관련기사